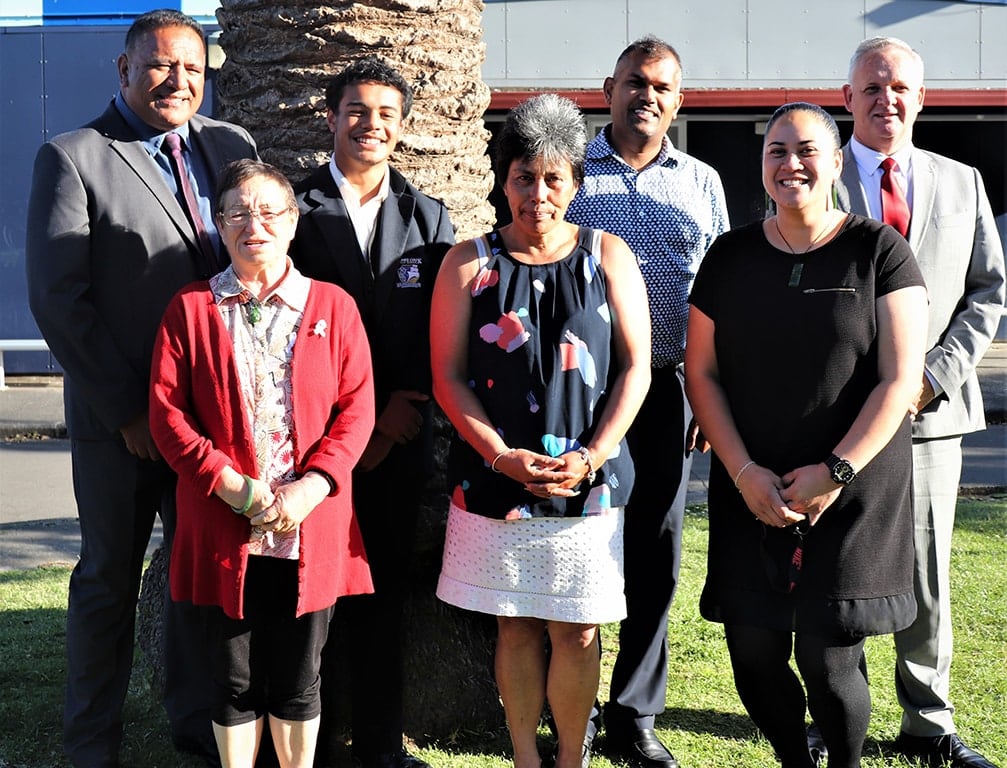 Board Members
| | |
| --- | --- |
| Grant McMillan | Principal |
| Waru Clark | Chairperson |
| Anne Farmer | Board Secretary |
| Simon Adams | Parent Representative |
| Jaylene Ball | Parent Representative |
| Kim Dennis | Parent Representative |
| Victoria Takawe | Parent Representative |
| Alvin Chand | Staff Representative |
| Dakoda Iosefa | Student Representative |
Board of Trustee meetings are held on the fourth Thursday of each month and commence at 5 pm.
Chairpersons End of Year Statement 2019
It is with pleasure as the new Chairperson of the Board of Trustees for James Cook High School that I write this reflection of our 2019 year on behalf of the Board of Trustees.
Firstly, I would like to thank the previous board for their tremendous support of the school over the last three years. It was a difficult time for the board with the May 2017 ERO external evaluation of James Cook High School identifying several significant concerns regarding the educational outcomes and opportunities for students. In response, the Ministry of Education appointed a Limited Statutory Manager (LSM) in August 2017 to undertake the functions and powers of the board. Chris Saunders, as the limited statutory manager took over governance of employment, finance, teaching, assessment, and health and safety.
During term two of this year, we had our latest ERO review. It stated that "Leadership is beginning to strengthen the quality of teaching and learning, and the design of the school curriculum, to improve student access to meaningful learning opportunities and pathways. The school has significantly improved its organisational capability and operational capacity. The school is making good progress and many key improvement initiatives are underway."
A core focus for the senior leadership team and teaching staff in 2019 is the introduction of a new curriculum for year 9 and 10 students based around the four strong thematic strands of
Tōku Tūākiritanga – Identity and belonging;
Tōku Taiao – Environment, Time, Space
Tōku Tino Rangatiratanga– Citizenship;
Tōku Auahatanga Creativity and Innovation.
Teachers will work together with other curriculum areas to mutually plan their thematic strand ideas so they can better meet the learning needs and interests of their learners.
The new Board is made up of the Principal, one staff trustee, five elected parent trustees, and a newly elected student trustee. We will consider co-opting additional trustee members if required.
As the newly appointed board chair my focus is on providing consistent leadership to the Board. Over the next three years of this board's tenure, we will be aiming to gradually reduce the governance powers of the currently appointed LSM. You should feel reassured that the school is in great heart; with a healthy financial position, a highly engaged Board of Trustees and a dedicated group of teachers, and support staff who all have student's best interests at heart.
Waru Clark
Chairperson
The policies are currently available from the school for perusal. In the short term, they will be placed on School Docs for viewing.
2019 Annual Report
JCHS 2019 Annual Report (28 May)

2018 Annual report
2018 annual report JCHS

BOT Meetings 2020