---
James Cook House System:
When students enroll at James Cook High School they are placed into a tutor group that belongs to one of our four Houses. Belonging to a tutor group and a House helps to foster a sense of community for the students.
The four houses are:
Rūaumoko (red)
Tangaroa (blue)
Tāne Mahuta (green)
Tāwhirimātea (silver grey)
Students stay in the same tutor group throughout their time at JCHS. Being in the same tutor group provides a degree of stability for the students and tutor should also be the first point of contact for all parents and caregivers. It is part of the tutor teacher's role to get to know their students very well and assist with monitoring their academic and personal progress.
Competition amongst the Houses is fierce as students work to get their House to the top and take out the House trophy for the year. There are a wide range of events and competitions, ranging from sports (soccer, volleyball, athletics, etc) to academic (including Mathex, Speech and Spelling Bee). Houses also compete to be the best-attending House, in the term-by-term attendance competition. To win the House must have the most students in a House meeting, the annual goal being 90% or better.
You should get in touch with your child's tutor if you have any concerns about your child's progress or well-being at school.
The Story Behind our Houses:
Rūaumoko – 'god of earthquakes and volcanoes'
Tangaroa – 'god of the sea'.
Tāne-mahuta – 'god of the forest'
Tāwhirimātea –'god of the weather'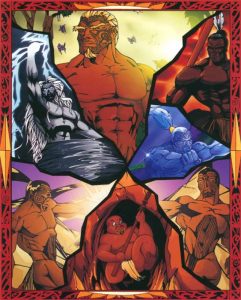 https://teara.govt.nz/en/artwork/11542/gods-of-the-natural-worldTraditionally, Māori divided the natural world into realms ruled by various gods. These gods, the children of Ranginui (sky) and Papatūānuku (earth), were the original kaitiaki (guardians) of their realms. Kaitiakitanga was based around these divisions.
Clockwise from top: Tāne Mahuta, god of the forest; Tūmatauenga, god of war and people; Tangaroa, god of the sea; Haumia-tiketike, god of uncultivated foods; Rūaumoko, god of earthquakes; Rongomātāne, god of cultivated foods; Tāwhirimātea, god of weather.