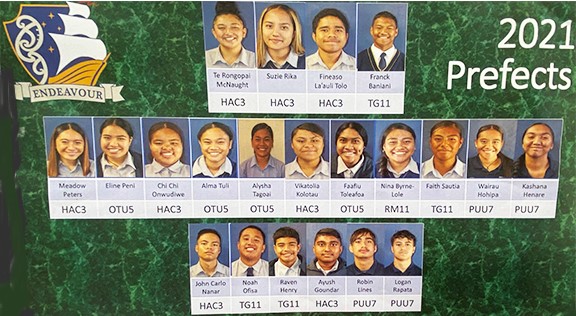 One of the most rewarding aspects of teachers' work is to watch the growth of the new Year 9 students into superb leaders in Year 13. There are ample opportunities for acknowledging the leadership skills of our Year 13 students. In consultation with staff and students, we select the school leaders, Head, and Deputy Head girl and boy; each House appoints four students as House Prefects for the year (two boys and two girls), and the Sports Department selects a Code Captain to manage each of the Sporting Codes entering into the regional competition.
One of the opportunities our students will have when they enrol in James Cook High School is to participate in student leadership. We have a great group of prefects for 2021.
Head Boys
Fineaso La'auli Tolo
Franck Baniani

PREFECTS
Carlo Nanar,
Noah Ofisa,
Raven Henry,
Ayush Goundar,
Meadow Peters,
Eline Peni,
Chi-Chi Onwudiwe,
Alma Tuli,
Alysha Tagoai,

Head Girls
Te Rongopai McNaught
Suzie Rika

PREFECTS
Vikatolia Kolotau,
Faafiu Toleafoa,
Edwina Byrne Lole,
Faith Sautia,
Logan Rapata,
Robin Lines,
Wairau Hohipa,
Kashana Henare.
Apply to be a student leader